Welcome to SV@Home's Policy Rundown, your need-to-know overview of important housing policy actions and developments from the past two weeks.
Palo Alto tenant protections go to Council next Monday!
On November 8th, the Palo Alto City Council will be considering a package of tenant protection ordinances brought forward by city staff. The Council originally discussed the need for additional tools that might address the rising concerns about tenant displacement in 2017, and then again when residents of a downtown apartment building were displaced when the property was converted to a boutique hotel in 2018.
The recommendations have been reviewed by the Planning and Transportation Commission and the Human Relations Commission where all but extension of existing State rent gouging measures, and a Community Opportunity to Purchase ordinance (COPA/TOPA), received strong support.  The top priority for both commissions was the full implementation of a rental survey to get a more accurate picture of the needs tenants experienced in Palo Alto. The City has had a rental registry ordinance on the books for decades, but it has never been prioritized or enforced. 
The full package of measures to be considered on Monday include:  
Rental Survey Program
Annual survey gathering data on all rental housing units
Expand Tenant Relocation Assistance
Apply existing tenant relocation assistance framework to more rental units
Eviction Reduction Program
Expand existing state legislation to protect more households. Rules provide specific causes for when tenants can be evicted
Anti Rent-Gouging Policy
Expand existing state legislation regarding a rent increase cap to include more households
Security Deposit Limit
Limit the amount charged for security deposits to less than two times (State limit) the monthly rent
Fair Chance Ordinance
Limit the ability to ask applicants about criminal history
Right to Counsel
Provides tenants with legal assistance in housing-related cases
(TOPA/COPA) Tenant/Community Opportunity to Purchase
Provides certain organizations notice of intended sale of rented property. May provide a specific time period during which the tenants and/or organization have the opportunity to purchase the property
Proactive Rental Inspection
Commits code enforcement staff to routinely inspect rental housing inventory
This is a tremendous opportunity for Palo Alto, and these measures will need broad support to move forward. SV@Home has been working in partnership with the City of Palo Alto since 2019 through a Challenge Grant from the Partnership for the Bay's Future (PBF). We have been honored to work closely with city staff and the PBF fellow assigned to our team over these past few years, and are pleased that the products of this effort will be before the council on the 8th. More recently, SV@Home has been supporting the emergent Palo Alto Renters Alliance (PARA), which has called for support as these measures come to a vote and to make sure these protections cover all Palo Alto renters.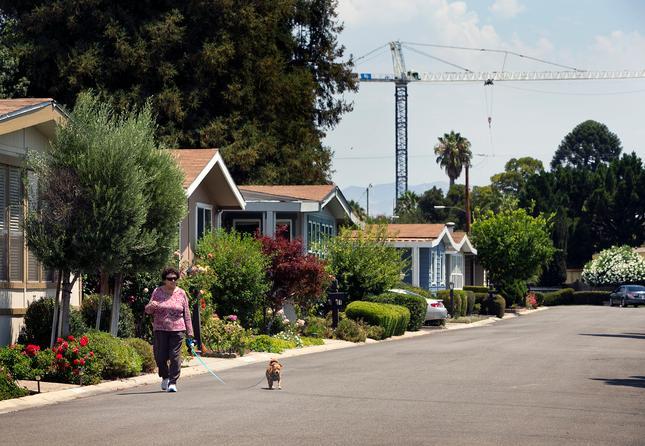 Mobilehome Update: Sunnyvale Mobilehome residents organizing for their rights
On July 13th, the Sunnyvale City Council endorsed a Memorandum of Understanding (MOU) between residents of mobilehome parks and the park owners to limit rent increases. However, park residents must sign and return a copy of the MOU by December 31st in order to enjoy the protections negotiated by the stakeholders and approved by Council earlier this year.
The provisions of the MOU negotiated by mobilehome owners and park owners included:
Annual rent increases are limited to the greater of 3%, or 75% of the Consumer Price Index
Rent increases payable by a new buyer of a mobile home upon resale are limited during the first year of the MOU, but will increase to 15% by year three
The City of Sunnyvale is launching an extensive outreach effort, including mailers and forums, to let residents know about their rights and to encourage them to sign the MOU. The City has scheduled four virtual meetings:
Mobile Home Resident MOU Lease Addendum Meetings
Wednesday, Nov. 3, 6 to 7 p.m.
Wednesday, Nov. 10, noon to 1 p.m.
Tuesday, Nov. 16, noon to 1 p.m.
Thursday, Nov. 18, 6 to 7 p.m.
The following Zoom link and access information will be the same for all meetings:
https://sunnyvale-ca-gov.zoom.us/j/81413159874
Call-in: 833-548-0276 | Meeting ID: 814 1315 9874
In addition to the city-sponsored meetings, on December 6th at 6:30pm there will be a community forum about the MOU co-hosted by the Law Foundation of Silicon Valley, Livable Sunnyvale, SV@Home and the Sunnyvale Mobile Home Resident Group. Register at https://bit.ly/MOUForumRegistration
RHNA Appeals Update
Six jurisdictions in Santa Clara County appealed their draft Regional Housing Needs Allocations (RHNA). In these appeals they asked for reductions in the number of homes state and regional planning authorities have determined they are responsible to plan for over the next eight years in their Housing Element Update. (See here for more on the RHNA and Housing Element Update process.) The appeals came from: Palo Alto, Los Altos, Saratoga, Los Altos Hills, Monte Sereno, and Unincorporated Santa Clara County (areas of the county that are not part of any city).
On October 22, the ABAG Administrative Board issued unanimous preliminary denials of appeals for all six Santa Clara County jurisdictions. We expect these to be finalized on Friday, November 12 at 12:30 (postponed from October 29th to give staff more time to compile the required reports). On December 16, the ABAG Executive Board will conduct a public hearing to adopt the Final RHNA Plan.
You can see the reasons these jurisdictions gave for appeal and read their letters of appeal at this fantastic RHNA Appeals Airtable curated by the Campaign for Fair Housing Elements. Many thanks to all of you who weighed in with comment letters to support a fair share of housing responsibility for every Santa Clara County jurisdiction!