Affordable Housing Month
2021: Silicon Valley is Home
We're so glad that hundreds of you joined us for Affordable Housing Month — Silicon Valley (AHM) 2021! During the entire month of May, SV@Home convenes our region's housing partners to host dozens of virtual workshops, webinars, and creative community engagement opportunities to activate and engage our community of housing advocates and the general public about our housing challenges and solutions. Did you miss an event? Many events were recorded- catch up below! Want to learn more about what goes on behind the scenes of Affordable Housing Month? In this episode of the Affordable Housing Podcast, brought to you by Eden Housing, host Joanne Greene speaks to Gabriela Chavez-Lopez, SV@Home Communications and Membership Manager.
---
Affordable Housing Month 2021 Sponsors!
Sponsors are essential in making Affordable Housing Month and SV@Home's robust events program a success. Our sponsors supported SV@Home and the affordable housing community for this month-long effort designed to raise awareness, educate, engage, activate, and unite around affordable housing issues. Contact Gabriela Chavez-Lopez at gabriela@siliconvalleyathome.org with questions about membership, sponsorship, and supporting Affordable Housing Month next year.
Hear from our Affordable Housing Month 2021 sponsors why they're passionate about supporting SV@Home and the affordable housing community:
---
2020 #BeMyNeighbor
2019 #Year4Housing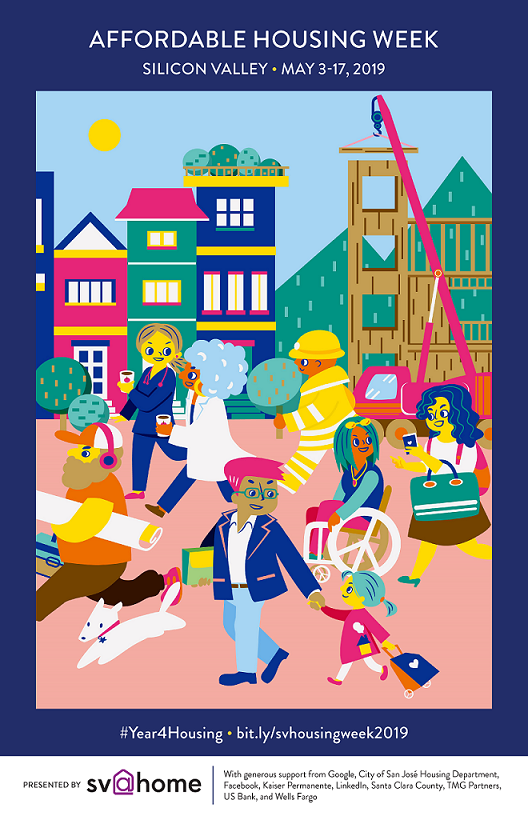 2018 #ItsTime4Yes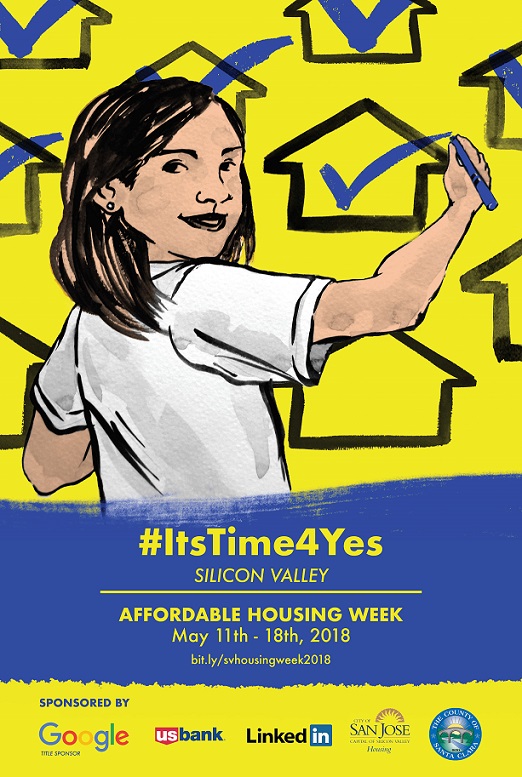 Recap 2020: Be My Neighbor
SV@Home convened our regional housing partners throughout Santa Clara County in celebrating a virtual Affordable Housing Month 2020 in May! Our fifth annual public education and awareness campaign pivoted from a weeks-long to a month-long program with creative community engagement opportunities, in a time when the importance of a secure, safe, and affordable home has become even more crucial.
For AHM Silicon Valley, our 2020 theme — Be My Neighbor — was even more vital during this time. The global pandemic, coupled with our ongoing housing challenges, has made for a public health crisis at unprecedented scale. Yet even as we practice physical distancing, we are seeing in magnified ways how much we rely on the people, nonprofits, businesses, and government agencies around us for our individual and societal well-being.
Full of virtual events, activities for all ages, and invigorating conversations, AHM 2020 brought our community together to learn, engage, and act on how we can work to make Silicon Valley a more affordable place to live for all of our residents. We highlighted not only our housing challenges, but also dug into the solutions we are building together, with workshops, game nights, and more! View event recordings here.
You also joined the conversation during the Month by participating in our #BeMyNeighbor story share. We invited you to share a fond memory of a neighbor, whether from present day or your childhood. You can continue using the hashtag #BeMyNeighbor so we can share and highlight your story during Affordable Housing Month.