Affordable rental housing has many of the same cost components as market-rate housing: land, development fees/taxes, labor and materials, and soft costs. However, affordable housing often has higher costs of development due to requirements placed on homes built with public subsidies. This includes prevailing wages for construction workers and additional environmental requirements. According to the Terner Center at UC Berkeley, affordable housing developments "are often subject to increased local scrutiny, further inflating costs." The 2014 study found that local government design requirements for affordable housing added an average of seven percent in total costs, and that community opposition (measured by holding four or more community meetings) increased expenses by five percent.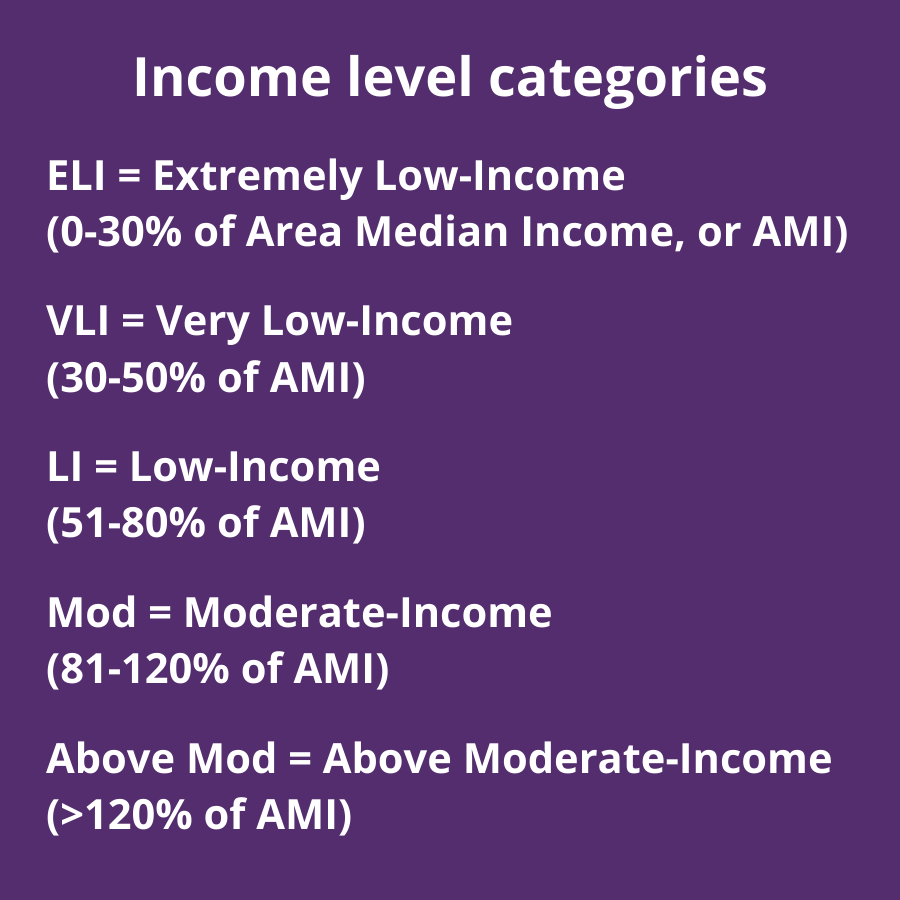 Traditional deed-restricted affordable housing limits who is eligible to live in a development and what rent they will be charged based on the level of household income and the number of people living in the household. The income level categories are established by the Department of Housing and Urban Development (HUD):
Eligibility is determined by percentages of area median income (AMI) by household size. Rents are established at no more than 30% of various percentages of AMI (not necessarily just at the upper limit of the ELI, VLI, and LI income categories), varying by unit size.
For traditional affordable housing development, the revenue stream from rents cannot support the same level of debt from private lenders that can be supported by market-rate rents, so loans are smaller. These loans come in two forms: a 30-year mortgage from a bank or other commercial lender at market-rate interest (typically somewhat higher than is available for homebuyers); or a somewhat larger loan in the form of the proceeds from a bond issued by a public agency at an interest rate about 1% lower than those of a commercial bank. Market-rate housing developers can obtain long-term mortgage loans from commercial lenders, but currently need to contribute at least 25% of the total project cost in the form of equity.
Because the private lender loans are smaller, there is a funding "gap," which is typically filled with multiple different funding sources. Virtually all of these subsidy sources adopt thresholds for funding, such as depth of income levels to be served, locational criteria, age, and disability or homelessness status. Low-interest loans with very favorable repayment provisions (known as "soft money" loans) as well as grants are made available by cities, the County, and the State. Forgivable loans are provided by the Federal Home Loan Bank. The U.S. Department of Housing and Urban Development provides forgivable loans for projects serving certain populations. Low-Income Housing Tax Credits are invested in projects in the form of equity that does not need to be repaid. The Housing Authority can provide operating subsidies in the form of project-based Section 8 vouchers.
Only a relatively small part of the affordable housing development financing stack is from local money. Multiple state funding sources each have their own timeline and requirements. Developers also need a commercial bank loan to cover a portion of the costs. Loan underwriters must consider the property's cash flow when deciding how much to loan, so if units are being offered to families a the lower income levels at lower rents, the developer will receive less money in the loan. The lower the income level, the lower the loan. There is still a gap left over after the developer has lined up tax credit financing and a commercial loan. The remaining gap needs to be made up with local money from cities or the county. That could come from a range of sources.
Affordable Housing Funding Sources
Click the source of funding below to learn more about each one.
Further resources:
Congressional Research Service: An Introduction to the Low-Income Housing Tax Credit
SPUR: What We Talk About When We Talk About Affordable Housing: A Primer
Terner Center: The Cost of Building Housing